Celestia, a vocal interaction music game, finalist of Indiecade 2014, showcase@PAX East 2014, showcase@ E3 2014, a poster at SIGGRAPH 2013, and one of ACM-CHI Game Competition Finalists(May 2013, Paris).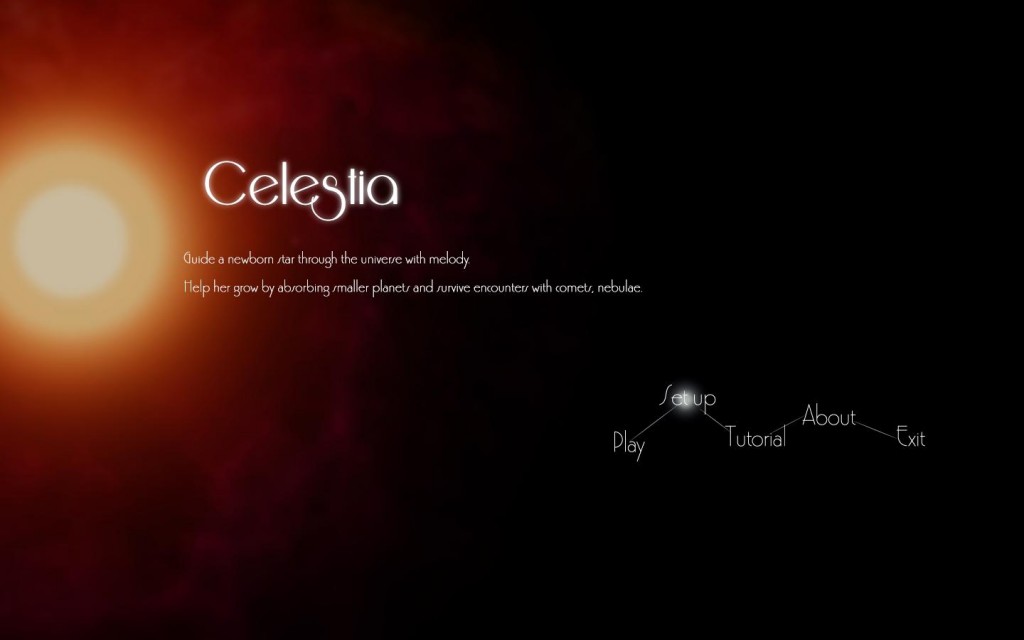 Users use voice to guide a newborn star through the universe with melody, help her grow up by absorbing small planets and survive by dodging comets, nebulae.
CELESTIA @ E3 2014 | April 2014, LOS ANGELES, CA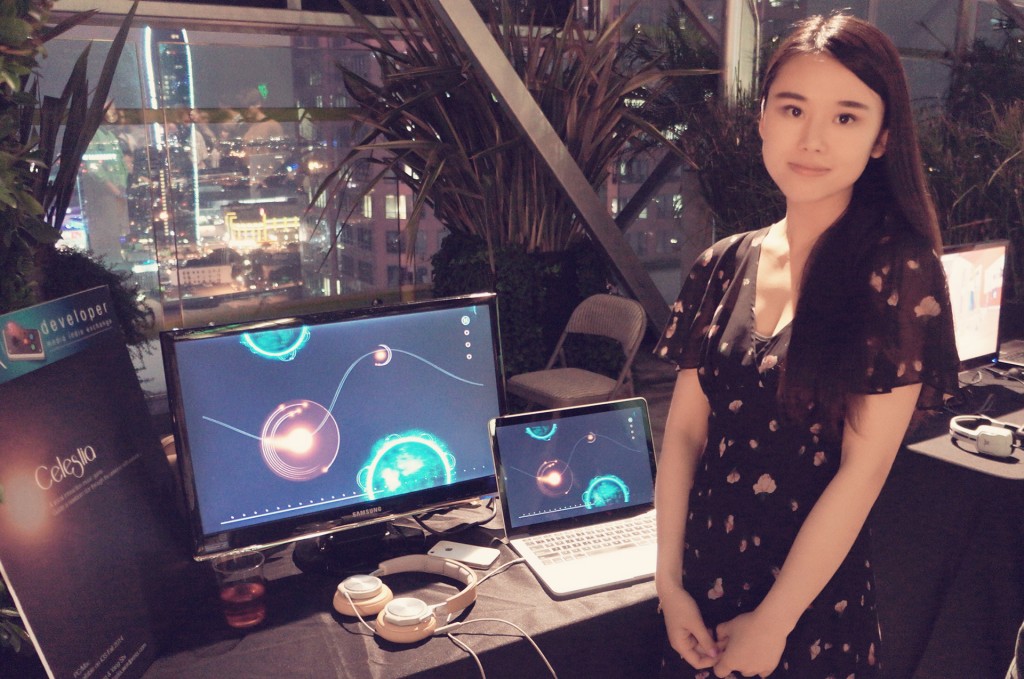 CELESTIA @ SIGCHI 2013 | MAY. 1, 2013, PARIS, FRANCE
Celestia was accepted for inclusion in the CHI 2013 conference Student Game Competition. Celestia team presented the project in the conference.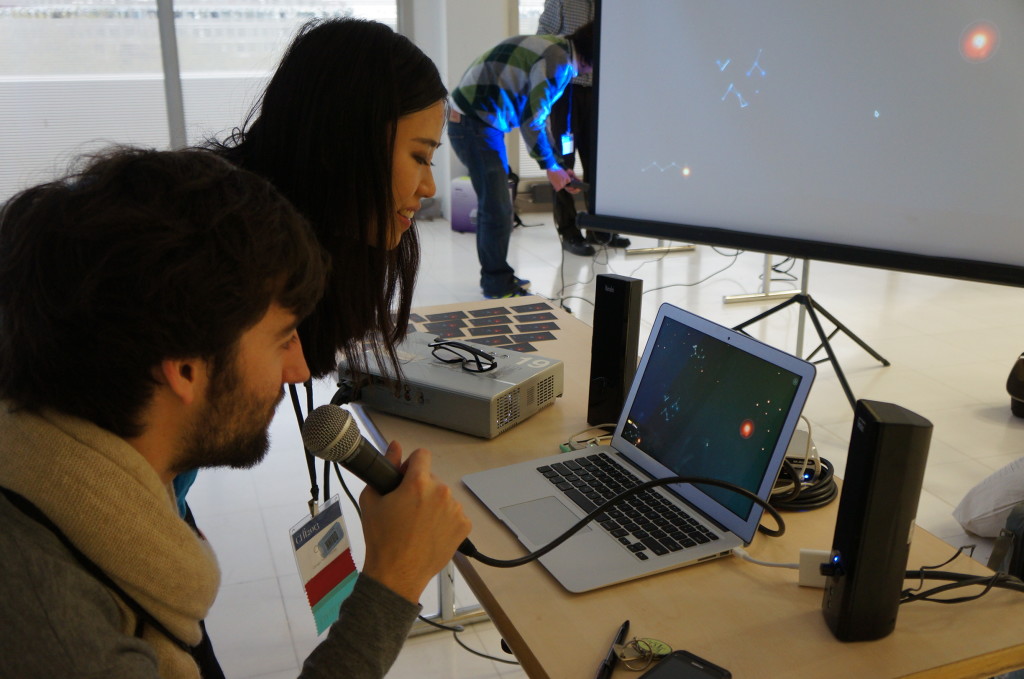 In the demo session, people stopped by and checked out this amazing interaction music game. Players love it and gave positive feedbacks and suggestions,
"We really enjoyed your game!! I will most definitely download it. I'll anxiously await iOS version!!"
"I think this was my favorite game that I tried today, I wanted to express the following ideas about learning how to play…"
"I'm very much interested in such beautiful project, if you need some help at some point, feel free to ask, I'm always happy if I can be of any use!"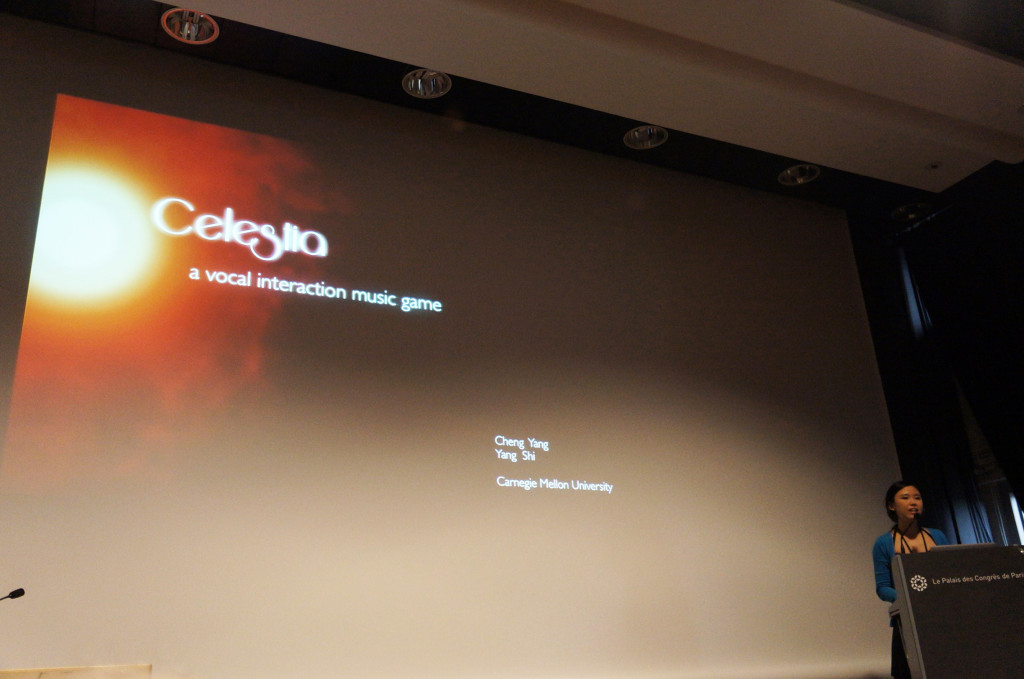 Presenting Celestia
CELESTIA @ SIGGRAPH 2013 | JULY.23-24, 2013, LOS ANGELES, CA
Celestia was accepted to be presented as a Poster at the SIGGRAPH 2013 Conference in Anaheim, California. People gravitated to Celestia's unique aesthetic art style and wondered how to interact with Celestia with voice. Many of them shows interests in such innovative and intuitive game and looks forward to Celestia iOS version.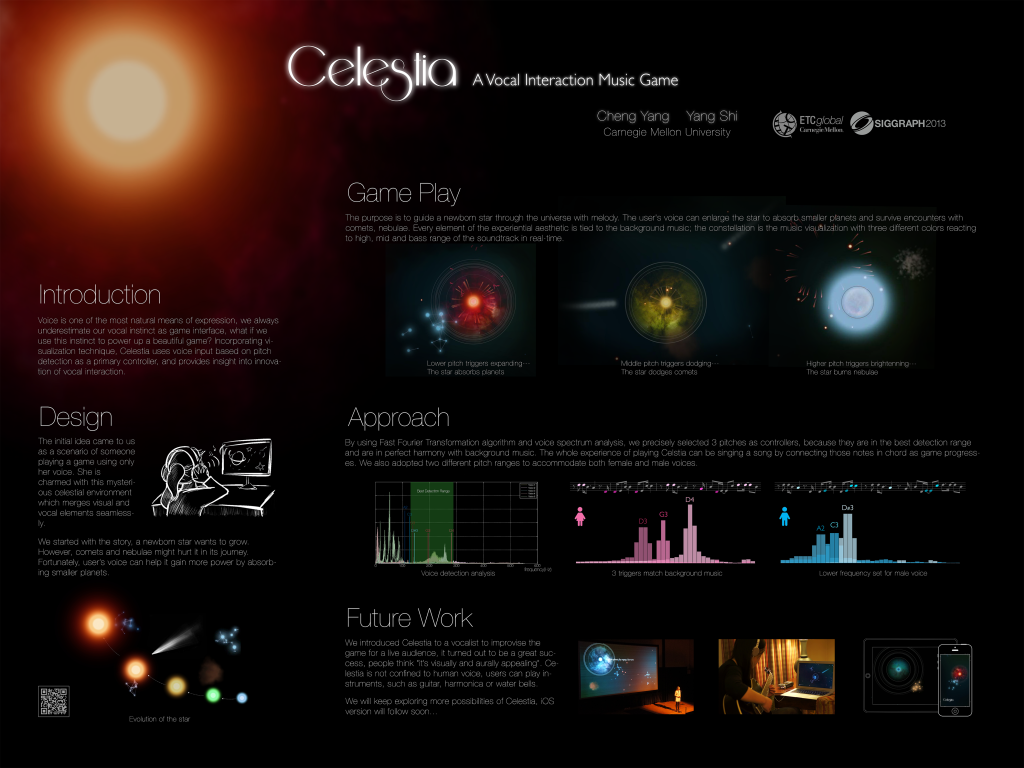 Celestia Poster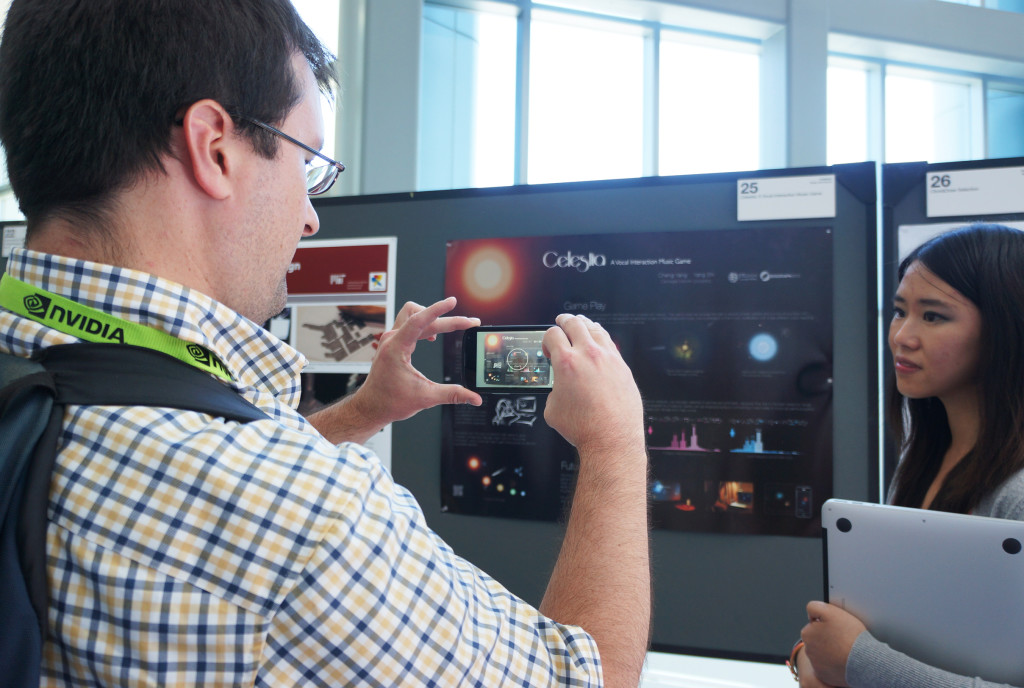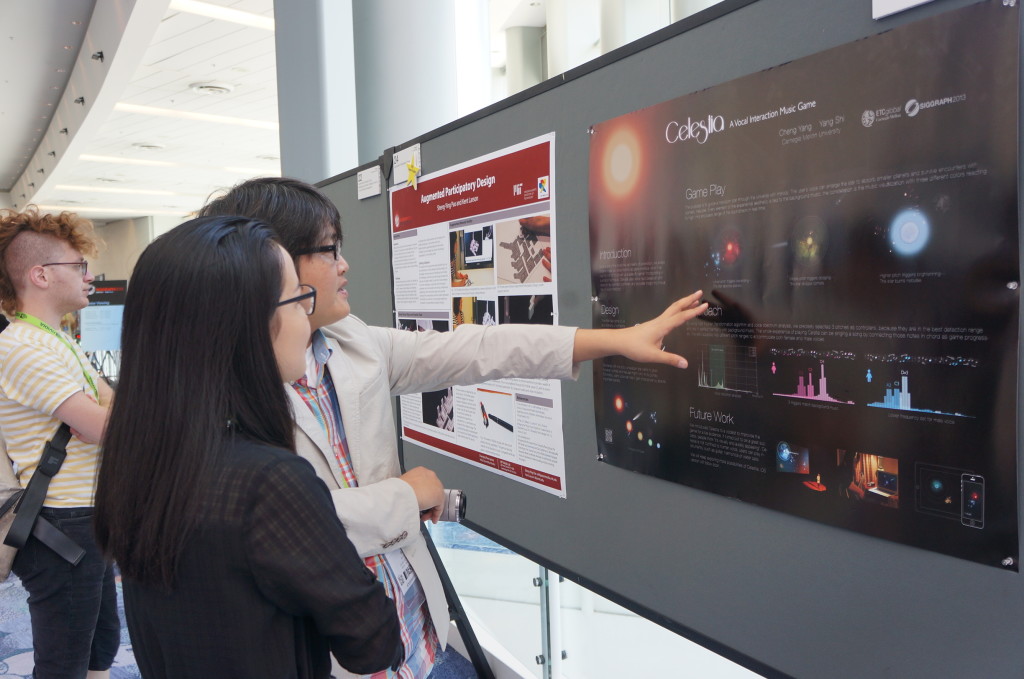 This game uses voice as input based on pitch recognition and refers to several behaviors of planet in astronomical environment. It not only detects specific pitches but also reacts to volume variation which determines what extension of the effect that can be achieved on a certain pitch.
Namely, the louder the volume is, the better the result will be on the premise that users hit the given pitch. In gameplay respect, since Celestia detects three specific pitches that are the roots of major chord of the background music (D3, G3, D4 for female, A2, C3, D#3 for male). The purpose of the setting is to make the background music as guidance for calibration. Users can sing with improvised melody only using those pitches as game progresses.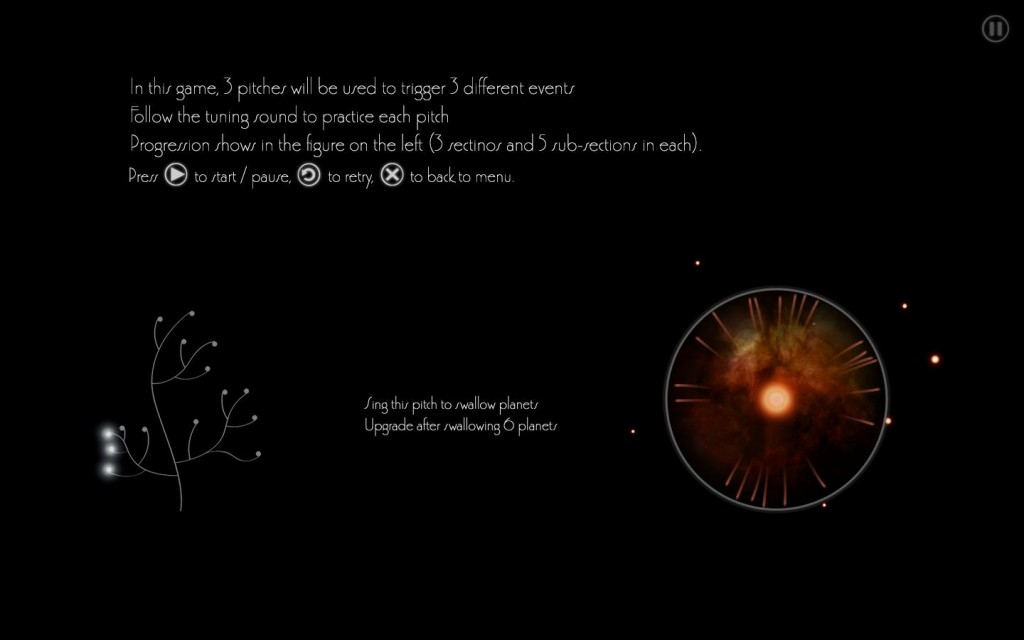 Tutorial Interface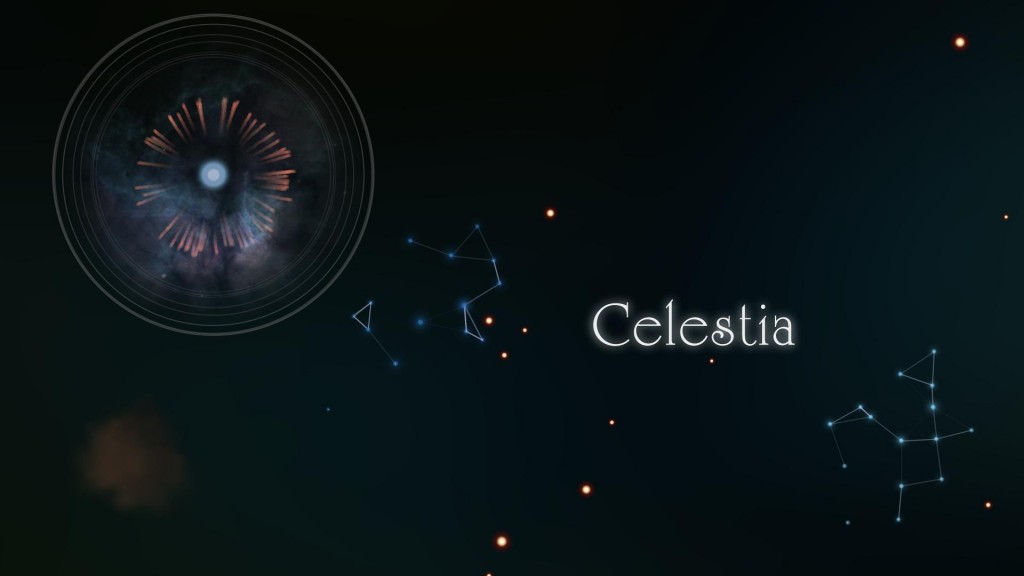 Users sing a particular pitch (D3/A2) to expand the diameter of the star's corona, and then the star could swallow the little planets that are within reach. When successfully absorbing planets, the star scatters splendid sparks and evolves to the next phase for every six planets.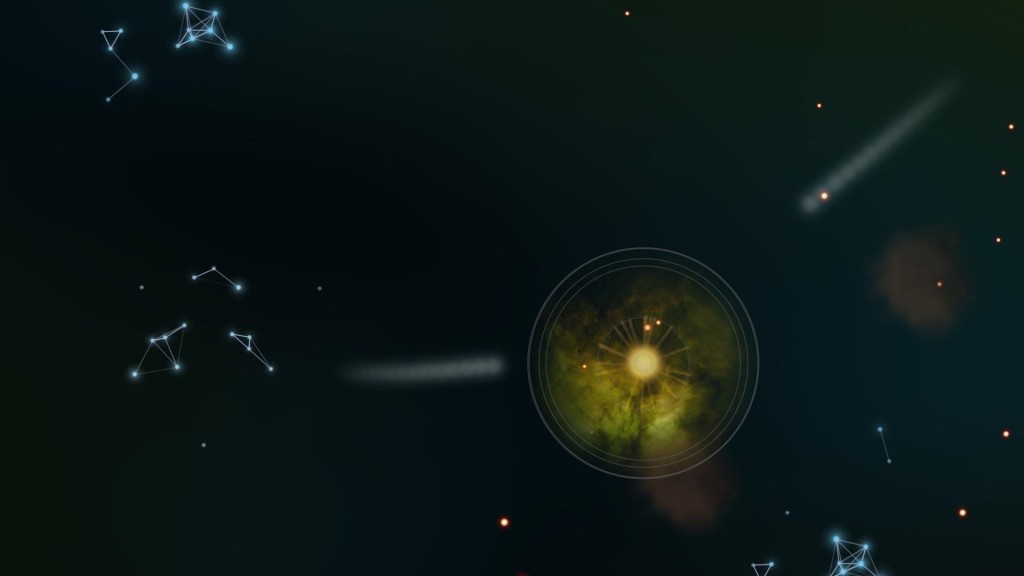 Users sing another distinguish pitch (G3/C3) to elevate the star, and then it can dodge the comets coming from either side. When impacted by comets, the star burns for a few seconds and degrade to the last phase for every three comets.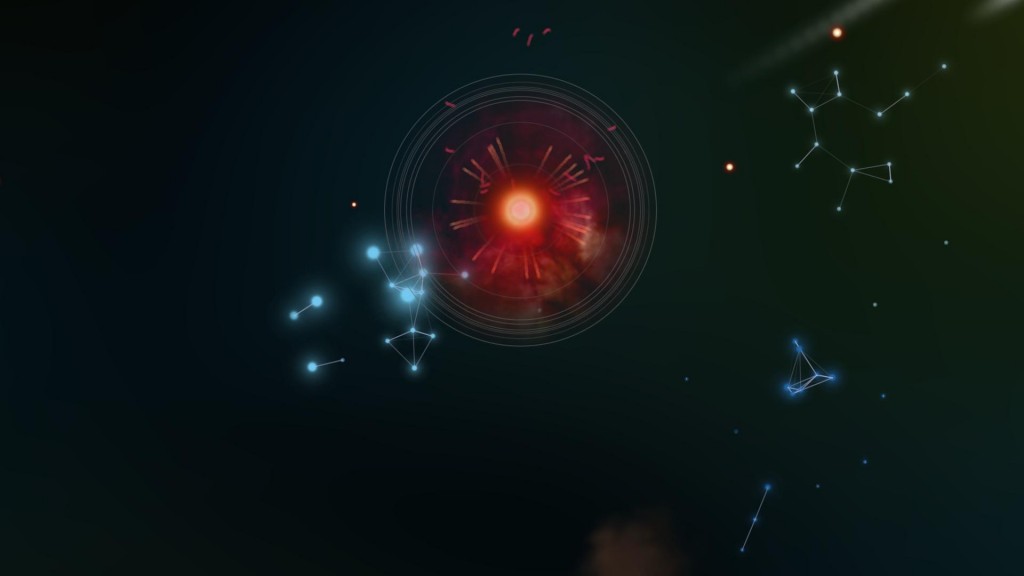 Users sing the third different pitch (D4/D#3) to release a burst of energy from the star's core, and then explode the nebulae to clear the way. When missing one nebula, the star will degrade to the last phase directly.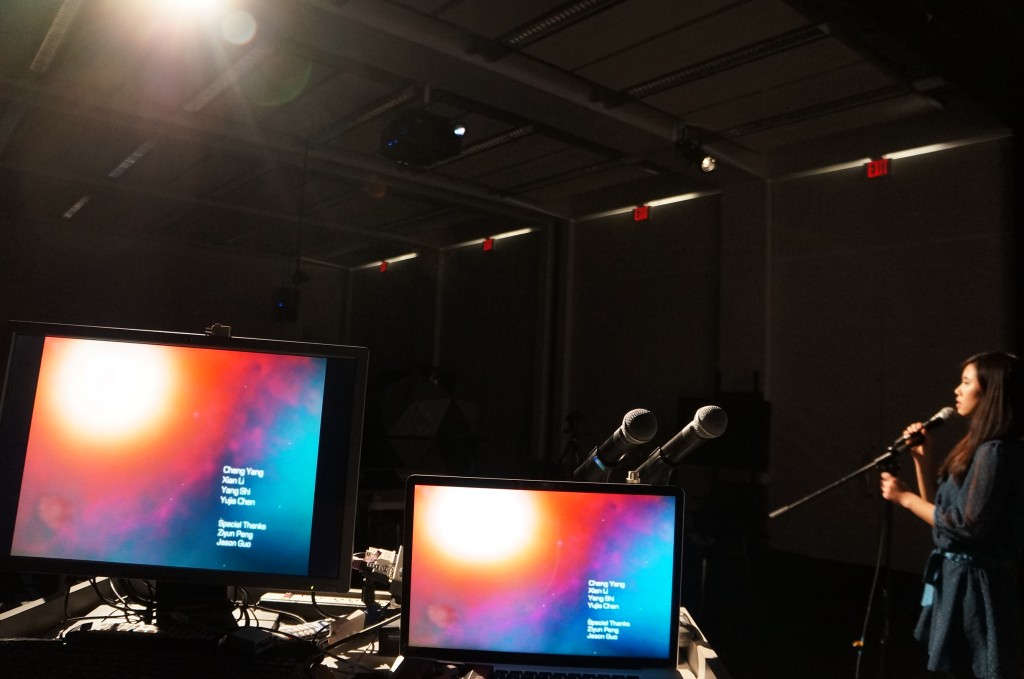 We introduced Celestia to a professional female singer Anneke Harger, the following picture was taken when Anneke  "performing"  the game in ETC BVW show. The show turned out to be a great success and we received positive feedbacks like "it is visually and aurally appealing."